Synopsis according to Goodreads:
"
It's 1950, and as the French Quarter of New Orleans simmers with secrets, seventeen-year-old Josie Moraine is silently stirring a pot of her own. Known among locals as the daughter of a brothel prostitute, Josie wants more out of life than the Big Easy has to offer.
She devises a plan get out, but a mysterious death in the Quarter leaves Josie tangled in an investigation that will challenge her allegiance to her mother, her conscience, and Willie Woodley, the brusque madam on Conti Street. Josie is caught between the dream of an elite college and a clandestine underworld. New Orleans lures her in her quest for truth, dangling temptation at every turn, and escalating to the ultimate test.
"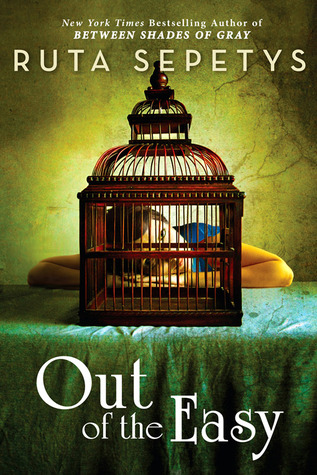 It's historical fiction, set in New Orleans in 1950- a city I've never visited, and an era I don't know much about. But Sepetys does such a lovely job describing the scenery and the people, without exposition bogging down the narrative
.
I found the story believable, as well, which is not my usual reaction to historical fiction (this is what comes from being a history nerd, sometimes).
Josie, the main character, is smart, observant, resourceful, and persistent. She's a great role model for young women, and I was cheering for her the entire time.
I definitely recommend this one for fans of New Orleans, the 50's, scrappy female protagonists, coming of age stories, houses of ill repute in New Orleans, gangsters of that era, historical fiction, and character-driven stories. It's a quick, fast-paced read that's thoroughly enjoyable.
Labels: 1950, adversity, book review, coming of age, female protagonist, historical fiction, intrigue, new orleans, out of the easy, romance, ruta sepetys