Synopsis according to Goodreads:
"
In the early days of the Civil War, rumors of gold in the frozen Klondike brought hordes of newcomers to the Pacific Northwest. Anxious to compete, Russian prospectors commissioned inventor Leviticus Blue to create a great machine that could mine through Alaska's ice. Thus was Dr. Blue's Incredible Bone-Shaking Drill Engine born.

But on its first test run the Boneshaker went terribly awry, destroying several blocks of downtown Seattle and unearthing a subterranean vein of blight gas that turned anyone who breathed it into the living dead.

Now it is sixteen years later, and a wall has been built to enclose the devastated and toxic city. Just beyond it lives Blue's widow, Briar Wilkes. Life is hard with a ruined reputation and a teenaged boy to support, but she and Ezekiel are managing. Until Ezekiel undertakes a secret crusade to rewrite history.

His quest will take him under the wall and into a city teeming with ravenous undead, air pirates, criminal overlords, and heavily armed refugees. And only Briar can bring him out alive.
"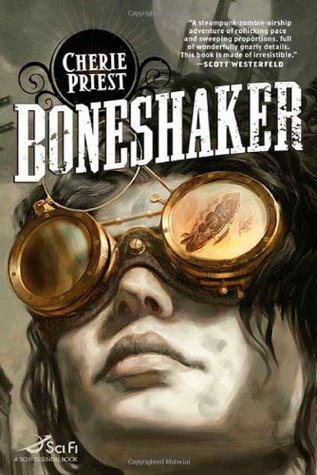 Boneshaker was the kind of steampunk historical fantasy novel that I didn't see coming. I get frustrated with a LOT of the Victoriana steampunk novels out there, for their sheer stupidity and likewise, I'm charmed by steampunk novels that show me something new. That's where this one lands.
Because steampunk. Apocalyptica. Zombies. And the kind that are scary and fast.
I loved that the main character is not some young heroine, but a late 30's aged mother. And the other women in this book are suitably kick-ass, and also in their 50's and beyond. I loved that the Seattle Underground and 1880's Seattle infrastructure plays such a key role, even given the liberal fact changes for story's purpose. I loved seeing characters plucked out of Seattle history and dropped into this story. And it was a rollicking ride, especially after about halfway through.
This was my first Cherie Priest novel, but not my last. It's a must-read for steampunk fans and zombie fiction fans, and I also recommend it for fans of historical fantasy, Seattle lovers especially.
And if you've never been on the Seattle Underground tour (and you SHOULD DO THIS), suffice to say her description of the tunnel areas isn't far off to what actually exists today. Parts of the story are implausible, of course (it IS fantasy), but the touchstone of Seattle's true underground and layout are delightful.
Labels: boneshaker, book review, cherie priest, historical fantasy, historical fiction, seattle, steampunk, underground, zombies