Synopsis according to Goodreads:
"
Forced to obey her master.
Compelled to help her enemy.
Determined to free herself.
Nalia is a jinni of tremendous ancient power, the only survivor of a coup that killed nearly everyone she loved. Stuffed into a bottle and sold by a slave trader, she's now in hiding on the dark caravan, the lucrative jinni slave trade between Arjinna and Earth, where jinn are forced to grant wishes and obey their human masters' every command. She'd give almost anything to be free of the golden shackles that bind her to Malek, her handsome, cruel master, and his lavish Hollywood lifestyle.
Enter Raif, the enigmatic leader of Arjinna's revolution and Nalia's sworn enemy. He promises to free Nalia from her master so that she can return to her ravaged homeland and free her imprisoned brother—all for an unbearably high price. Nalia's not sure she can trust him, but Raif's her only hope of escape. With her enemies on the hunt, Earth has become more perilous than ever for Nalia. There's just one catch: for Raif's unbinding magic to work, Nalia must gain possession of her bottle…and convince the dangerously persuasive Malek that she truly loves him. Battling a dark past and harboring a terrible secret, Nalia soon realizes her freedom may come at a price too terrible to pay: but how far is she willing to go for it?
"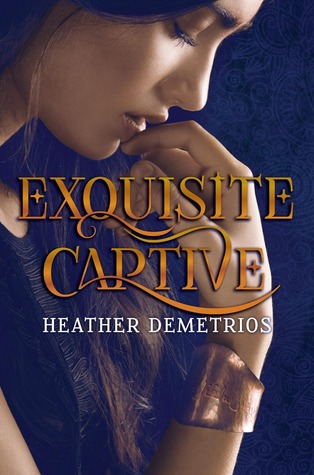 I didn't realize, when I read Exquisite Captive, that it's the first in a series. It reads like a standalone, with enough backstory and forward-moving tension to feel self-contained. And then the cliffhanger ending happened, so I'm relieved there will be more.
The fantasy world (overlaying our contemporary) is influenced by Arabian folklore and jinni mythology, which makes it exotic and enticing. The main character is an 18-year old female jinni who has been enslaved since she was 15 years old. This is important because, as we start into her narrative, her temperamental, rich-as-sin master has shifted from cruel to seductive (and ew).
At first, the themes smacked of insta-love, with a love triangle. I was fully prepared to put it down based on that alone BUT I'm glad I didn't. Because Demetrios turns the trope in its head, with elements of Stockholm Syndrome. It was nice to see the abusive/manipulative relationship elements from the PoV of the young woman caught within the isolation of it. It's so easy to paint villain vs. hero but as anyone who has been in this kind of controlling relationship (magic aside) can tell you, what Nalia experiences is pretty much spot-on.
I recommend this for fans of contemporary fantasy, Middle Eastern mythology and folklore, high-stakes adventure stories, and magic. There may be parts you raise an eyebrow to, but stick with it- I promise the few wrinkles even themselves out.
Labels: book review, contemporary, exquisite captive, fantasy, female protagonist, genie, heather demetrios, jinni, magic, middle eastern, romance, slavery