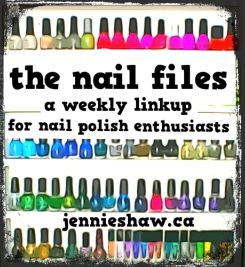 Misty at The Book Rat got me thinking about matching my mani to the cover of my read. And when that happens to be a gorgeous cover, it's pretty easy doing.
Yay #BookLooks!
Unfortunately, my shiny brand new nail stamping equipment failed me. Or I failed it. After an hour of different designs (which would have matched that cover PERFECTLY), different polishes, different attempts, and absolutely nothing working...I gave up and did this:
That's ALiquidLacquer mystery polish (no kidding, the name is a question mark), with Nubar Blondie topping.
But what you WERE going to get was gold stamped swirls and a genie bottle over these purple nails, to match the cover more correctly.
*sigh*
Labels: booklooks, nail files