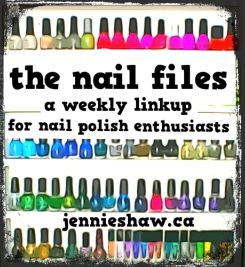 Jen from Simple Nails & Beauty challenged me to the Jamberry 7 Day Challenge. I tried Jamberry in the past and the vinyl nail decor peeled up in just two days. BUT it turns out I was supposed to apply heat to bond the design to my nail (why does nobody tell me these things???).
So she kindly sent me a strip to try, with directions.
Conveniently, this paired well with a nylon nail decal I had, and some Julep Faye. So here it is, the 7 Day Challenge:
Day 1: Leopard print is Jamberry, black cat is a decal
Crappy lighting is courtesy of our old rental house.
Day 2: I did some hefty filing at work. VERY hefty filing. You can
see the whole "Jamberry strips don't cover my nail side to side" issue I have
(with all strips). I got over it, eventually.
Day 3: Damage is still limited to the tips of my tips, but you can see
the top coat over the vinyl cat sticker is peeling up, and I have a chunk out of the side-tip there (paper beats polish).
Day 4: Doomsday for my nails. Tip chipping has now become side chipping. Jamberry nail strip is now starting to wear down on the tip, but not peeling up at all, causing much
amazement and crow-eating, for me.
Day 5: Plenty of chips and chunks out of all nails, though the Jamberry is going strong.
Hard to tell here, but the cat's tail is curling up off my nail, despite near-daily application
of topcoat.
Day 7: Inadvertent French Tips thanks to all that chipping. The Jamberry accent nail tore slightly thanks to torn nail, but I was able to file it down.
The cat decal, on the other hand, went tail-first on Day 6.
So color me impressed- if you apply Jamberry strips and then use a hair dryer on them for about 12 seconds, they secure enough to your nail that they:
a) beat out nail polish
b) require concerted effort to remove (I pried it off my nail, but I think you're supposed to use remover)
c) cling to your nails even as your nails are tearing
My only issue with the Jamberry strips was that they don't cover my nail side-to-side (the next width up was too wide for my nail bed). I could probably fix this if I was good at trimming things. Also, it's not really noticeable.
Want to try your own? Get 'em from Jen- I was really impressed with her customer service, patience, and the fact that she sends easy instructions with her Jamberry strips. She's also got a B3G1 sale going on right now!
*This sounds like a sponsored post, but I promise it isn't. I was just happy to find a nail solution that lasts, for those events and times where I can't be redoing my polish every other day.
Labels: nail files