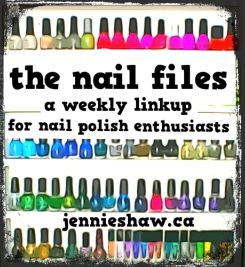 Ok, I lied. There's no

crimson

in this Nail Files.
BUT
There is stamping. Finally, successful stamping (after weeks of failed attempts).
Yes, Candies My Lucky Charm clover stamp over Revlon Emerald City nail polish maybe was a bad idea. Contrast is a good thing.
But the point is: it worked.
And then I tipped my nails with Stripe Rite in gold, just for something different (and to hide how short some are, thanks to tearing).
I'm so stoked to keep trying stamping with all of my other polishes, now that I've had a success!
Labels: nail files