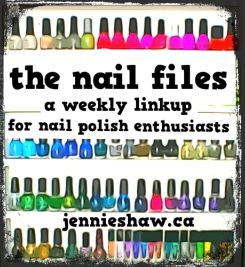 In honor of my friends, who are about 35 days from the hatching of their first baby, who have a constant bird theme in their lives (including their baby shower, which just happened), I did this.
I painted one coat of an OPI color that I got in a swap but has no name (it's super sparkly and slightly lavender in tone, and it eats topcoats and laughs maniacally).
Then I put some vinyl flying bird nail stickers on, and covered them in one coat of Julep Charlotte.
Then I used a tweezer to quickly peel up the stickers, creating a silhouette.
And 3 top coats later, I gave up trying to get my nails NOT bumpy and just embraced it.
The verdict?
I will definitely be doing this silhouette (and possible negative space) type of thing again. It was super easy, and much cleaner than free handing, and less stressful than stamping.
Labels: nail files