Synopsis according to Goodreads:
"
The faction-based society that Tris Prior once believed in is shattered--fractured by violence and power struggles and scarred by loss and betrayal. So when offered a chance to explore the world past the limits she's known, Tris is ready. Perhaps beyond the fence, she and Tobias will find a simple new life together, free from complicated lies, tangled loyalties, and painful memories.
But Tris's new reality is even more alarming than the one she left behind. Old discoveries are quickly rendered meaningless. Explosive new truths change the hearts of those she loves. And once again, Tris must battle to comprehend the complexities of human nature--and of herself--while facing impossible choices about courage, allegiance, sacrifice, and love.
"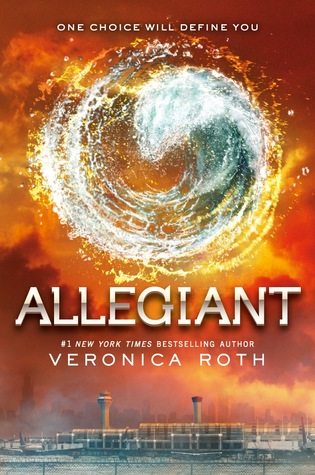 I was told (twice, by two separate people) that the ending of Allegiant would make me want to throw the book across the room. So I went into it fully ready to be pissed off.
And you know what? I loved it. But it took some time. The initial switching of perspective between Tris and Tobias was off-putting. Tobias seemed to be making a lot of snap judgements and stupid decisions that seemed out of character for him...until I realized that we've only known his character through Tris' eyes, so of course it feels out of character. And of course when Tris is thinking he's acting like an idiot, so are we the reader.
But the thing is, Roth hit (albeit quickly, almost shocking quickly) the kernels of a relationship. I love that neither Tris nor Tobias are less individual without each other. I love that they don't pine, and even when they grab quick moments everything is very matter-of-fact (they way they themselves are). I love that they can see, and point out, fault. That they can assign blame without being at the emotional level of a three-year-old. That they can apologize, and recognize when they're projecting, and let go of the smaller annoyances AND stand their ground on the big stuff.
To me, their relationship, harried and rushed though it was, felt incredibly mature and healthy.
Don't get me wrong, there were plenty of "are you freaking kidding me WHY?!?!" moments (mostly aimed at Tobias, this time around). And the driving political tension plot stuff is pretty superficial. And the conflict resolution at the end seemed a little trite. But the big "throw the book at the wall" moment actually felt right to me- it felt real, it felt worthy. I was fearing some sort of "Who shot JR?" Dallas shenanigans, and I was pleasantly surprised.
I recommend it, of course, for fans of Divergent and Insurgent. But also fans of no-happily-ever-afters, earnest romantic relationships, female protagonists, characters seeking connection but remaining well fleshed-out, and tears (because they're a good chance you'll get sniffly during it). It was, all told, a really nice ending to a trilogy that I enjoyed.
Labels: book review, drama, dystopian, female protagonist, romance, trilogy, veronica roth, YA