I'm starting something a little different- combining two weekly blog linkies that I love!
I confess...
Canada rocks.
Need proof?
(finally! Our perfect size container of Sriracha!)
I confess...
The only way in which Canada fails, is in its "signature" food.
I'm sorry, guys, but Tim Hortons was awful (coffee, and donuts), poutine was "just ok", their chips and junk food was mediocre, and all their candy (except Wunderbars- thanks, Karen! and Coffee Crisp) was softer but less flavorful than what we're used to.
I'll say this, though: they love a pub.
I saw more pubs in Calgary than I did in LONDON.
(from The Toad & Turtle...neither of which were on the menu!)
I confess...
I was also tickled that Canadian hash browns are American "country-style potatoes", and Canadian "potato pancake" is an American "hash brown".
(Canadian for Coors)
I confess...
We had a wonderful time in Calgary.
Banff National Park and Heritage Park were standout favorites, despite the fact that I was suffering a migraine through both.
(the hot springs at the Cave and Basin in Banff)
I confess...
It's also always nice to be surrounded by people who hug you all the time, more positive than not (we do have our Negative Nancy folks, but by and large everyone is happy to be there), and this time CUTE ANIMALS TO CUDDLE! We raised over $2K for the Calgary Humane Society (which, of all the animal welfare groups I've worked with, they're exemplary). So it was a huge success!
Plus, they had a wonderful animal tribute, which included a poem by Fat Joe.
D'awwww....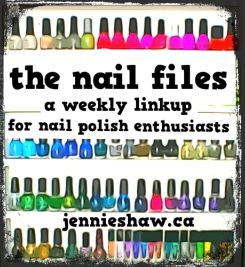 This should've gone up last week, in honor of the Beauty & the Beast convention that I attended in Calgary, AB, Canada. But alas, I had too many other on-point costume tutorials to post. Mea culpa!
I started with two coats of Chick Pick Polish "Fresh Snow". Yes, I'm addicted to this small business nail polish company!
Then I added Born Pretty Store rose nail decals.
For the second time, I've discovered that water decals and I just don't work. I soaked these bad boys for TEN FRELLING MINUTES and they still acted like stickers (you can see how they're peeling up there, even with two coats of top coat over them).
How do you make water decals work????
Labels: friday confessional, nail files