I confess...
It's been a difficult week. I was sick all last weekend, with a huge EBV flareup (long periods of being unconscious, achey in all my joints but especially my wrists and thumbs right now, lack of appetite and negative gut reaction when I eat anything, difficulty focusing and recalling words, etc.) that's continuing. 100% of my energy is focused on getting to and from work, and going through the motions there as best I can- everything else is on hold.


I confess...
We also got stood up by the plumbing contractor who was scheduled to come out on Monday to drill the major root blockage out of our sewer main line. We've been unable to use the washing machine, dishwasher, showers (more than twice/week) and toilets (more than a few times/week) for 5 weeks now, all of which have been a nightmare of home warranty company being obstructionists and contractors being unethical.



I confess...
It's putting me on the shit-list at work (not that I'm ever off it?) to keep taking work-from-home days (something we're officially not allowed to do) for the sewer problem that continues to go unresolved. The stress of worrying that I'll be laid off because of this is NOT helping with the EBV flareup. The irony that bad health causes stress causes bad health is not lost on me, either.



I confess...
Although, if I'm honest, the idea of sleeping for a month straight because I no longer have a job has some appeal.
(I kid...making $0 is even more stressful than the ever-present threat of lay offs)



I confess...
If it weren't for Fedora, taking care of chores, deliberately making me laugh, and generally being a great person, I'd be in a pretty dark place right now. I hate that in our relationship, it's always me falling apart, having major health issues, etc. because it feels so unbalanced. But I'm also profoundly grateful that he's so amazing.


I confess...
Bright spots in this week have included:
Getting my Fandom of the Month Club box
Being accepted into the OTSP Secret Sister Project
Continuing the awesome graphic novel series, Runaways (seriously, Brian K. Vaughan, can I pet your brain?)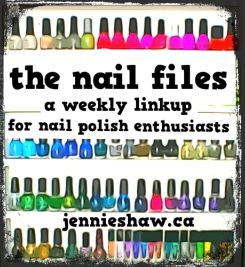 The ChickPickPolish obsession continues....
(Seaglass nails!)
I was going to do some clever stamping, but these flareups sap me so much, I just wasn't able to. I hate when bad health hijacks my life.
Beach Glass and Ship Wreck are my favorites: gorgeous, matte, highly pigmented shades.
Rabid Seas took 4 coats to make as opaque as possible, which drove me nuts.
Gulf Coast was meh...but the gold shimmer undertones of Koi Pond make me happy.
Labels: friday confessional, nail files