Synopsis according to Goodreads:
"
Cate Kendall is no stranger to daydreams of brooding men and fancy parties—after all, she teaches one of her beloved Jane Austen novels in her English classes every year. But as for romance or adventure in her own life, the highlight of most weeks is Scrabble with her cute coworker, Ethan, and he draws the line at witty banter. But Cate is ready for a change. When she finds a mysterious journal that seems to have a link to the soul of the great Jane Austen herself, she knows it's her chance. And she grabs on with both hands…
Before she knows it, Cate has invented an alter ego with an attitude, attended some seriously chic soirees, and gotten tangled up with a delicious mystery man. And she's uncovered enough unexpected secrets about Ethan that her Scrabble partner has taken to brooding looks and unfathomable silences. It's a positively Austenite predicament, and Cate is sure she'll land in hot water and heartbreak—but maybe not with Jane herself to guide her…
"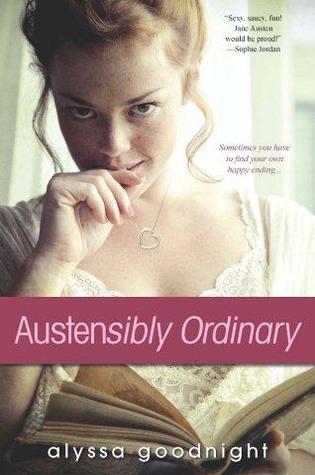 Austensibly Ordinary is the sequel to Austentatious (which I reviewed yesterday), and very much along the same lines.
It's another sweet contemporary romance that makes for a breezy beach read. This time, the MC (Cate) embodies Catherine Morland's "imagination running away with you" charm and Emma's short-sighted self-righteousness. As you can imagine, that creates some chuckle-inducing situations, and some frustrating bouts of "you're being a self-centered hypocrite right now".
Given that this book is not a deep dive into anything, it was easy to overlook the frustrating parts in favor of the comedic misunderstandings. It has a touch of judgmental toward things I found endearing, but otherwise was fluffy good fun.
If you know Emma, you'll know how this ends and of course the joy is in seeing how it unfurls. This book had (thankfully!) fewer nod-wink Austin references, and a lot less sugar consumption.
The magical Jane Austen diary is in there, so it's got a touch of magical realism, some of which was line-for-line repeated. However, Cate's interpretation of events was much different than Nic's in the first book, and more enjoyable in my opinion.
I recommend this for Austen fans who enjoy reading Austen spinoff everything (especially Emma things), those who enjoy fluffy contemporary romance, anyone who likes the trope of good-girl-walks-the-wild-side, and fans of contemporary magical realism. Suspend your disbelief (or knowledge) of things such as teacher etiquette, and the CIA, and you'll be fine.
Labels: alyssa goodnight, austen in august, austensibly ordinary, book review, contemporary, jane austen, romance