Synopsis according to Goodreads:
"
It started innocently enough. While browsing in one of Austin's funky little shops, Nicola James is intrigued by a blank vintage journal she finds hidden among a set of Jane Austen novels. Even though Nic is a straight-laced engineer, she's still a sucker for anything Austen-esque. But her enthusiasm quickly turns to disbelief once she starts writing in the journal--because somehow, it's writing her back.
Miss Nicola James will be sensible and indulge in a little romance. Those twelve tiny words hit Nic like a thunderbolt, as if her diary was channeling Austen herself! Itching for a bit of excitement, Nic decides to follow her "Fairy Jane's" advice. The result: a red-hot romance with a sexy Scottish musician who charms his way into Nic's heart in about five seconds flat.
Sean MacInnes is warm, funny, and happens to think Nic is the most desirable woman he's ever met. But a guy like Sean doesn't exactly fit into her Life Plan. With no one but Fairy Jane to guide her, Nic must choose between the life she thought she wanted--and the kind of happy ending she never saw coming.
"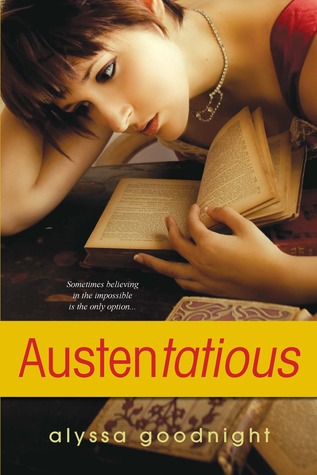 In honor of Austen in August, I tackled Austentatious, which I've actually been wanting to read for a few years now.
This sweet contemporary romance is a quick, easy read, very fluffy and 'beach read'-esque. The main character, Nicola, is relatable in that whole "I have a life plan" thing, but she's also a bit immature and consumes enough sugar that I don't understand how she's skinny and not diabetic. (However, I always appreciate when a heroine is described, and isn't traditional 'book-pretty'). I didn't care much for her, but the plot was fun enough to keep me reading.
There's a teensy bit of Pride & Prejudice in there, but it's so lightly touched upon that you probably won't notice it. There's also a slough of pop culture references (which I enjoyed) and Austin, TX references (which I didn't get at all, of course). The requisite Scottish hunk rock god is in there, making this a very uncomplicated (for us logical thinkers, anyway) romance.
Overall, it was more romance driven than character driven (which I'm not normally a fan of) but fluffy and sweet enough that I kept going and finished it in a weekend. I do like the underlying concept, and wish I had a magical Jane Austen diary to advise me (not on romance- I've got that covered- but everything else).
I recommend this for Austen fans who enjoy reading Austen spinoff everything, those who enjoy fluffy contemporary romance, anyone who lived in/loves Austin, TX and fans of contemporary magical realism.
Labels: alyssa goodnight, austentatious, book review, clean romance, contemporary, female protagonist, fiction, jane austen, magical realism, romance