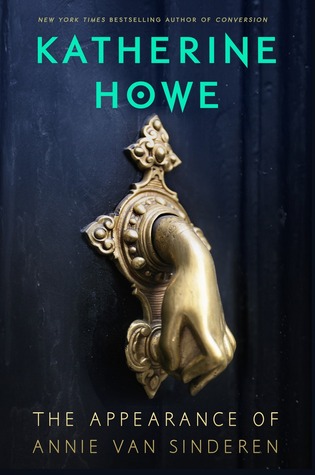 The Appearance of Annie van Sinderen
N/A
Young Adult, Paranormal, Mystery, Historical Fiction
G.P. Putnam's Sons Books for Young Readers
September 15th, 2015
Audiobook
400
My local library
Synopsis:
It's summertime in New York City, and aspiring filmmaker Wes Auckerman has just arrived to start his summer term at NYU. While shooting a séance at a psychic's in the East Village, he meets a mysterious, intoxicatingly beautiful girl named Annie.

As they start spending time together, Wes finds himself falling for her, drawn to her rose-petal lips and her entrancing glow. There's just something about her that he can't put his finger on, something faraway and otherworldly that compels him to fall even deeper. Annie's from the city, and yet she seems just as out of place as Wes feels. Lost in the chaos of the busy city streets, she's been searching for something—a missing ring. And now Annie is running out of time and needs Wes's help. As they search together, Annie and Wes uncover secrets lurking around every corner, secrets that will reveal the truth of Annie's dark past.
Review:
I'm familiar with Katherine Howe's books (read three, liked 2, 1 was 'meh' for me), so I was hoping this one would be solid. And it is. And part of what I enjoyed about it is that Howe's books each have a distinctive voice and pacing (as well as, of course, concept, narrator, and setting). She's clearly talented enough to be a bit of a chameleon, though magical realism is a uniting thread among her novels.
Things I really liked about this story:
I don't know NYC, but the way it's described sounds authentic without overreaching in an effort to seem very New Yorker
Likewise, there's a lot of passion for film, references to film styles and tech, and nods to how film aficionados view the world and even though I'm not a movie maker, I felt like I understood these references and they lent believability to Wes and his situation
The concept of a ghost story that isn't all about a person-ghost, but primarily about the past (especially past-place) as a ghost
The ending (and the nod to consequences)
The concept that you can change the past (which makes this, in my mind, a time travel story as well)
The diversity of personality in the supporting cast
The plethora of small historically-accurate details in the past sequences (I love a book that educates *and* entertains)
Things I didn't care for about this story:
Wes' devolving into a child when he's dealing with his parents, despite being really self-possessed and wise all other times (this is probably true-to-life for those in their late teens, but it frustrated me)
I never felt the chemistry between Wes and Annie, aside from his focus on her "perfect" looks (and maybe that was exactly what it was supposed to be, given the ending and all)
The pacing flagged in places for me and made me question whose story this was
The characters are great (and flawed, and felt well-developed), but I never clicked with any of them
I did adore the Author's Note. I always adore an Author's Note, especially when they have something intelligent to say and/or information to impart regarding the historical setting. The Author's Note made me want to know Katherine Howe, so we could go out for coffee and scones and talk old houses and great books.
One note: I listened to this as an audiobook, and it was well narrated (especially Jesse Bernstein, who read Wes' narration).
Labels: audiobook, B ratings, book review, historical fiction, katherine howe, mystery, paranormal, YA