Synopsis according to Goodreads:
"On a warm summer morning in North Carthage, Missouri, it is Nick and Amy Dunne's fifth wedding anniversary. Presents are being wrapped and reservations are being made when Nick's clever and beautiful wife disappears. Husband-of-the-Year Nick isn't doing himself any favors with cringe-worthy daydreams about the slope and shape of his wife's head, but passages from Amy's diary reveal the alpha-girl perfectionist could have put anyone dangerously on edge. Under mounting pressure from the police and the media—as well as Amy's fiercely doting parents—the town golden boy parades an endless series of lies, deceits, and inappropriate behavior. Nick is oddly evasive, and he's definitely bitter—but is he really a killer?"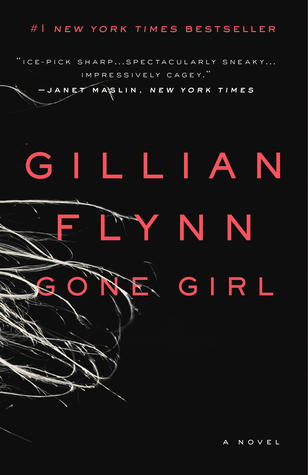 This book. THIS BOOK!
Okay, first of all, it's a psychological thriller in ever sense of the word. It surprised me, it shocked me, it disturbed me..and it amazed me. I don't want to spoil anything, but Gone Girl was twisty and engaging and can't-put-it-down.
I highly recommend it for lovers of thrillers, psychology, twisty surprise plots, very three-dimensional characters, and generally great writing.
I also have to give serious slow claps to Julia Whelan and Kirby Heyborne, who narrated the audiobook brilliantly- with all the emotion, inflection, and tone needed to make characters come alive. They didn't fall into that common audiobook narrator pit where one's voice takes on a constant cadence that is annoying as all hell- they sounded like real people. It made for an even better, more chilling experience of the book.
This roughly sums up my experience of the book:
News Flash: They're making it into a movie. I don't know how, since the book flips POV a lot, but here's the trailer to whet your whistle.
Labels: book love, book review, contemporary, family, Gillian Flynn, gone girl, psychological, small towns, thriller