Synopsis according to GoodReads:
"
Joan of Kent, renowned beauty and cousin to King Edward III, is destined for a politically strategic marriage. As the king begins a long dynastic struggle to claim the crown of France, plunging England into the Hundred Years' War, he negotiates her betrothal to a potential ally and heir of a powerful lordship.

But Joan, haunted by nightmares of her father's execution at the hands of her treacherous royal kin, fears the king's selection and is not resigned to her fate. She secretly pledges herself to one of the king's own knights, one who has become a trusted friend and protector. Now she must defend her vow as the king—furious at Joan's defiance—prepares to marry her off to another man.
In A Triple Knot, Emma Campion brings Joan, the "Fair Maid of Kent" to glorious life, deftly weaving details of King Edward III's extravagant court into a rich and emotionally resonant tale of intrigue, love, and betrayal.
"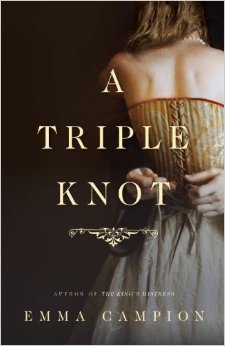 A Triple Knot takes place in the 1300s, and tells the story of feisty Joan, a Plantagenet (the British ruling family until the War of the Roses in the mid-1400's). It has political intrigue (a lot of it!), betrayal, coming-of-age, romance, danger, and most of all, intelligently-presented history.
Campion is clearly a skilled storyteller, as I felt in the action despite it being a time filled with things foreign to me (allegiance to various lords, the role of religion in daily life, the responsibilities of knights, arranged matches, geography of Europe, etc). Only once did I need to consult Google (on a matter of geography that was not a plot point, but had me curious about timelines).
The pacing was well done. The story skips months at times, but Joan's struggles and triumphs, and the political landscape around her, still move forward. Like most historical fiction, it doesn't crawl inside of Joan's head a lot, but it provides a broad landscape of events as experienced through the characters.
I was also grateful for the author's note about Joan the "Fair Maid of Kent"- an historic figure I knew nothing about when I picked this book up. She sounds like a unique woman for her time, and I'm curious to read more by this author. I'm also curious to learn more about Elizabeth of Juliers, a side character in this story who also intrigues me.
I recommend this for fans of historical fiction, especially medieval British history and the Black Prince, Edward. Also for fans of strong female characters coming of age in a time when women were denied much.
*I received a copy of this book from Blogging for Books for free, in exchange for an honest review. This does not affect my opinion of the book in any way.
Labels: a triple knot, book review, emma campion, female protagonist, historical fiction, medieval, political intrigue, romance, war of the roses