Synopsis according to Goodreads:
"Ten years after graduating from high school in Neptune, California, Veronica Mars is back in the land of sun, sand, crime, and corruption. She's traded in her law degree for her old private investigating license, struggling to keep Mars Investigations afloat on the scant cash earned by catching cheating spouses until she can score her first big case.

Now it's spring break, and college students descend on Neptune, transforming the beaches and boardwalks into a frenzied, week-long rave. When a girl disappear from a party, Veronica is called in to investigate. But his is not simple missing person's case. The house the girl vanished from belongs to a man with serious criminal ties, and soon Veronica is plunged into a dangerous underworld of drugs and organized crime. And when a major break in the investigation has a shocking connection to Veronica's past, the case hits closer to home than she ever imagined."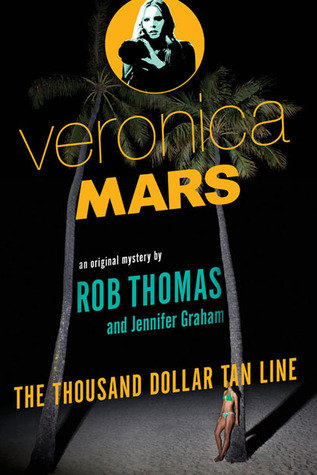 The Thousand-Dollar Tan Line is a spin-off novel that continues the Veronica Mars story after where the movie left off. I repeat: see the movie before you read this novel. *ahem*
I liked it. What can I say? I loved Veronica Mars, the TV show (and I was in it) and this was a sort of meta continuation of the TV show. Veronica is older, but the same street-smart, snarktastic heroine we know and love.
Except (and this is a good thing) there's some adult nods to the complications of adult offspring & parental relationships, alcoholism, long-distance and military dating, and the quest for what we're called to, what we're good at, versus what we should do.
I recommend it, of course, for fans of the Veronica Mars TV show. But also for fans of female protagonists in mysteries, whodunnits, modern takes on film noir/hard-boiled detective novels, and witty writing.
Labels: audiobook, book review, female protagonist, jennifer graham, mystery, rob thomas, the thousand-dollar tan line, TV show, veronica mars, whodunnit