Synopsis according to GoodReads:
"
For much of her life, Anne Morrow, the shy daughter of the U.S. ambassador to Mexico, has stood in the shadows of those around her, including her millionaire father and vibrant older sister, who often steals the spotlight. Then Anne, a college senior with hidden literary aspirations, travels to Mexico City to spend Christmas with her family. There she meets Colonel Charles Lindbergh, fresh off his celebrated 1927 solo flight across the Atlantic. Enthralled by Charles's assurance and fame, Anne is certain the celebrated aviator has scarcely noticed her. But she is wrong.

Charles sees in Anne a kindred spirit, a fellow adventurer, and her world will be changed forever. The two marry in a headline-making wedding. Hounded by adoring crowds and hunted by an insatiable press, Charles shields himself and his new bride from prying eyes, leaving Anne to feel her life falling back into the shadows. In the years that follow, despite her own major achievements—she becomes the first licensed female glider pilot in the United States—Anne is viewed merely as the aviator's wife. The fairy-tale life she once longed for will bring heartbreak and hardships, ultimately pushing her to reconcile her need for love and her desire for independence, and to embrace, at last, life's infinite possibilities for change and happiness.

Drawing on the rich history of the twentieth century—from the late twenties to the mid-sixties—and featuring cameos from such notable characters as Joseph Kennedy and Amelia Earhart, The Aviator's Wife is a vividly imagined novel of a complicated marriage—revealing both its dizzying highs and its devastating lows. With stunning power and grace, Melanie Benjamin provides new insight into what made this remarkable relationship endure.
"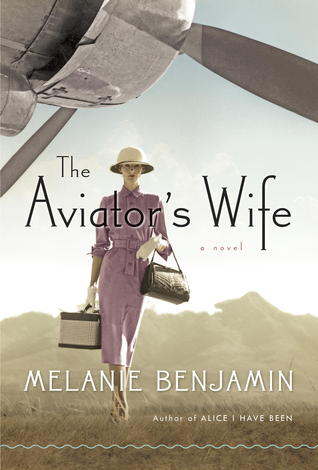 The Aviator's Wife was difficult to get through. Don't get me wrong- it's well-written, although sometimes the leaps in time and mental meanderings confused me. It's filled with emotion, and you get a good grasp of Anne Morrow Lindbergh's voice. But the characters...
Okay, first, a disclaimer: I know very little about the Lindberghs. As the author's note in the back says, most of us recognize the name but not many truly knew the couple. So I didn't have moments of bubbles being bursted for me, but watching poor Anne's bubble burst was painful.
Mostly, Anne reminded me of my grandmother- a smart, educated, talented woman who became a doormat to her controlling, bullying husband. Considering the similarities, I assume this passivity is not fully a character flaw, but a societal expectation that guided women like Anne and my grandmother into such unhappy states. Badly done, society, badly done.
Because Charles Lindbergh (in this novel, and by all public accounts) was a cold, bullying, pigheaded asshole. Talented, and perhaps too self-vindicated by the hero worship an entire nation heaped upon him, but still an asshole. And reading this book will make you gnash your teeth about it. There were times I didn't care much for Anne, either, but most of the book I was confounded how a woman who wrote Gift from the Sea could stay in this horrible, horrible relationship.
But as painful as the first 3/4 of the book was, it eased up a bit to a triumph ending. Was it worth the read? If you're in the mood for a pensive biography-type historical fiction, and interested in women who lived through such markedly different decades (the 30's, the 40's, the 50's, the 60's, and the 70's) of turmoil and change, then yes. If you're looking for a quick, light, entertaining read, then no.
I recommend this for fans of 20th century historical fiction, Anne Lindbergh, early celebrities of America, and complicated marriages.
Labels: aviation, book review, female protagonist, historical fiction, lindbergh, marriage, melanie benjamin, the aviator's wife