Synopsis according to GoodReads:
"
Since birth, Nyx has been betrothed to the evil ruler of her kingdom-all because of a foolish bargain struck by her father. And since birth, she has been in training to kill him.
With no choice but to fulfill her duty, Nyx resents her family for never trying to save her and hates herself for wanting to escape her fate. Still, on her seventeenth birthday, Nyx abandons everything she's ever known to marry the all-powerful, immortal Ignifex. Her plan? Seduce him, destroy his enchanted castle, and break the nine-hundred-year-old curse he put on her people.
But Ignifex is not at all what Nyx expected. The strangely charming lord beguiles her, and his castle-a shifting maze of magical rooms-enthralls her.
As Nyx searches for a way to free her homeland by uncovering Ignifex's secrets, she finds herself unwillingly drawn to him. Even if she could bring herself to love her sworn enemy, how can she refuse her duty to kill him? With time running out, Nyx must decide what is more important: the future of her kingdom, or the man she was never supposed to love.
"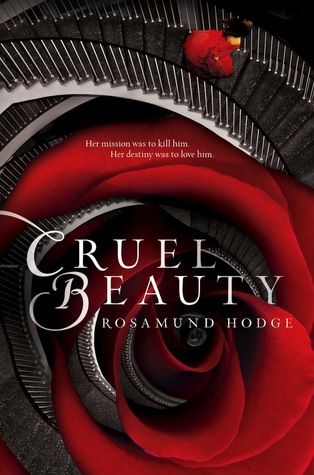 Cruel Beauty is a fairytale retelling...kind of. There are elements of Beauty and the Beast (as you'd expect), but also Bluebeard, Tam Lin, Cupid & Psyche, and many more. As you would expect, I loved it.
But I didn't just love it because of the clever weaving of known faerie tales in a unique way, but because the main character, Nyx, is awesome. And when I say awesome, I mean believable. She's wicked. Not heart-of-gold-but-fear-gives-her-a-sharp-tongue kind of faux-wicked; she's got hate and bitterness in her heart and she can't change that part of her nature. How often do we get protagonists who can be hateful (in thought and word, at least)?!
I love having a female protagonist who is complex- heroic, flawed, and who doesn't have to be moral, or obeisant, or romantic to be the hero.
All the characters in this book, actually, are very fleshed-out, real, and complex. Not a single one of them is a throwaway character, or a vehicle. And the feels! I had a lump in my throat for several chapters (no spoilers, I promise), but I couldn't stop listening. Also, there were passages that had me shuddering (and turning on lights).
I can't wait to read whatever Rosamund Hodge writes next!
I highly recommend this for fans of well-written faerie tale retellings, Greek mythology, realistic characters, clean romance, and twisty, dark tales.
Labels: adventure, book review, cruel beauty, fae, fairytale retelling, female protagonist, greek mythology, romance, rosamund hodge