Synopsis according to Goodreads:
"
You've heard the fairytale: a glass slipper, Prince Charming, happily ever after...
Welcome to reality: royal genealogy lessons, needlepoint, acting like "a proper lady," and — worst of all — a prince who is not the least bit interesting, and certainly not charming.
As soon-to-be princess Ella deals with her newfound status, she comes to realize she is not "your majesty" material. But breaking off a royal engagement is no easy feat, especially when you're crushing on another boy in the palace.... For Ella to escape, it will take intelligence, determination, and spunk — and no ladylike behavior allowed.
"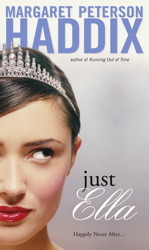 Just Ella is a sassy, fun, quick middle grade read. It takes all of the eye-rolling ridiculousness of the Disneyfied version of Cinderella and doses it with some slightly cynical, very entertaining snark.
This was a super-quick read (it's only 218 pages) with a refreshing heroine, and a lot of "save yourself" messages. I recommend it for young girls, but also for fans of fairytale retellings, sassy YA, and anyone tired of the Happily Ever After trope.
Labels: book review, cinderella, fairytale retelling, female protagonist, just ella, margaret peterson haddix