Synopsis according to Goodreads:
"
It's a night like any other on board the Icarus. Then, catastrophe strikes: the massive luxury spaceliner is yanked out of hyperspace and plummets into the nearest planet. Lilac LaRoux and Tarver Merendsen survive. And they seem to be alone.
Lilac is the daughter of the richest man in the universe. Tarver comes from nothing, a young war hero who learned long ago that girls like Lilac are more trouble than they're worth. But with only each other to rely on, Lilac and Tarver must work together, making a tortuous journey across the eerie, deserted terrain to seek help.
Then, against all odds, Lilac and Tarver find a strange blessing in the tragedy that has thrown them into each other's arms. Without the hope of a future together in their own world, they begin to wonder—would they be better off staying here forever?
Everything changes when they uncover the truth behind the chilling whispers that haunt their every step. Lilac and Tarver may find a way off this planet. But they won't be the same people who landed on it.
"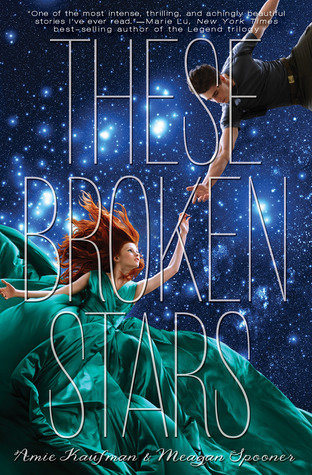 These Broken Stars. Oh, this novel. Take a moment and bask in that gorgeous cover. Then go read it. Because it's made of yes.
The science in this science fiction story works for me. I yelled in delight when one of the characters gave a measurement in kilometers (metric system being standard for science, despite America's backward feet and miles measurements). I almost never see that, so major points for sticking to science without detracting from the narrative.
The humor is fantastic. A little bit snarky without being negative, and very self-aware. There's a little bit of everything in this book, in terms of emotions, and the characters definitely pulled me in.
The romance develops naturally, and is believable (more so than most romances I encounter in pop lit). I wanted them to be together and I wanted them to be happy.
The character growth is lovely. More so for Lilac than Tarver, but they both face challenges and overcome them in different ways, to be more complete adults.
Basically, I love this book. I loved everything about it. I want to read more stories in this universe, and with these characters, and by these two authors. And I recommend it for fans of character-driven stories, realistic romance, and science fiction adventure.
Labels: amie kaufman, book love, book review, characters, drama, meagan spooner, romance, science fiction, survival, these broken stars, YA