Synopsis according to Goodreads:
"
A beautiful and distinguished family.
A private island.
A brilliant, damaged girl; a passionate, political boy.
A group of four friends—the Liars—whose friendship turns destructive.
A revolution. An accident. A secret.
Lies upon lies.
True love.
The truth.
We Were Liars
is a modern, sophisticated suspense novel from National Book Award finalist and Printz Award honoree E. Lockhart.
"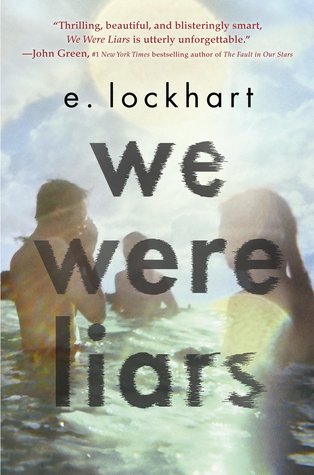 We Were Liars is a contemporary YA with a lot of drama and tension. The narrator is flawed, prone to exaggeration and pretty much tells you not to believe her from the start. So most of the story is trying to figure out what's really going on beneath the Kennedy-esque privileged life of this extended family.
Predictably, they are snobbish, cold, controlling, and prejudiced.
Predictably, the younger generation bucks against this.
Unpredictably, the extent of the ending.
Yeah, I know. Everybody says they can't tell you much or risk ruining the meat of the story. Because of this (heck, it's in the synopsis for the book!) I suspected things. But then reactions within the book made me doubt my suspicion. And then it turned out I was right to suspect BUT it was more dramatic than I expected. And pretty horrible.
I listened to this on audiobook, and the narrator did a great job of nearly-but-not-quite weeping in all the right places. Which, of course, made me tear up. So while I didn't relate to the characters (except for the migraines), I was pulled in by the suspense and mystery, and had visceral reactions to the drama.
I recommend it for fans of contemporary YA, family drama stories, suspense, and quick reads. At least, it felt like a quick read.
Labels: audiobook, book review, contemporary, drama, e lockhart, suspense, we were liars, YA