Synopsis according to GoodReads:
Issues 1-6.
Sophie Bangs was a just an ordinary college student in a weirdly futuristic New York when a simple assignment changed her life forever. While researching Promethea, a mythical warrior woman, Sophie receives a cryptic warning to cease her investigations. Ignoring the cautionary notice, she continues her studies and is almost killed by a shadowy creature when she learns the secret of Promethea. Surviving the encounter, Sophie soon finds herself transformed into Promethea, the living embodiment of the imagination. Her trials have only begun as she must master the secrets of her predecessors before she is destroyed by Promethea's ancient enemy.





Promethea is typical Alan Moore in both art and story. It's not my favorite line art, but the use of color and detail is really well done. It's imaginative, grotesque and charming in equal parts, very reminiscent of Alice in Wonderland with the story's juxtaposition of whimsical and horrible. There's also a lot of nods to New Age and ancient religion concepts, both in story and art. The story itself can sometimes get bogged down with the sense that Moore is trying to cram as much info about Promethea into every panel as possible. But aside from those lecturing moments, I liked the concept of Imagination as a world-shaping force. I don't think I'll continue with the series, as the main characters don't have enough of a personality to keep me turning the page (although I can see where in a few volumes, they will).






Delilah Dirk and the Turkish Lieutenant:


Synopsis according to GoodReads:





Lovable ne'er-do-well Delilah Dirk has travelled to Japan, Indonesia, France, and even the New World. Using the skills she's picked up on the way, Delilah's adventures continue as she plots to rob a rich and corrupt Sultan in Constantinople. With the aid of her flying boat and her newfound friend, Selim, she evades the Sultan's guards, leaves angry pirates in the dust, and fights her way through the countryside. For Delilah, one adventure leads to the next in this thrilling and funny installment in her exciting life.
A little bit Tintin, a little bit Indiana Jones, Delilah Dirk is a great pick for any reader looking for a smart and foolhardy heroine...and globetrotting adventures.





Delilah Dirk and the Turkish Lieutenant is one of those graphic novels that is pure fun. The art was lush with vibrant color and fun background details, there were hilarious little onomatopoeias scattered throughout, and the characters were charming. Delilah Dirk is the swashbuckling protagonist who turns every gender-based trope on its head. Selim plays the straight man, full of culture and earnestness. It's hard to say which character I loved more, but I will definitely be reading the rest in this series, when they come out.




The Undertaking of Lily Chen:


Synopsis according to GoodReads:





Deshi Li's brother is dead--and unmarried. Which means that Deshi must find him an eligible body before the week is up.
Lily Chen, sweet as a snakebite, needs money and a fast ride out of town.
Haunted by the gods of their ancestors and the expectations of the new world, Deshi and Lily embark on a journey with two very different destinations in mind. They travel through a land where the ground is hard and the graves, where marriage can be murder and where Lily Chen is wanted--dead and live.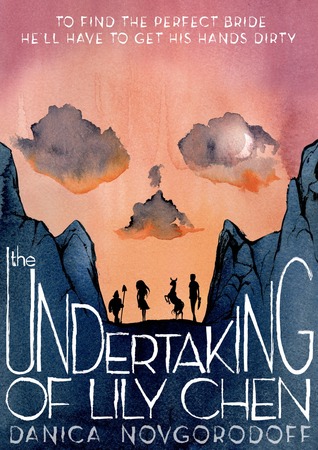 The Undertaking of Lily Chen is a difficult story, both because the art didn't engage me and because it deals with a lot of death but only ever follows the surface words and actions around characters. It's hard to see if the protagonist is ever haunted, until he's literally haunted in the story. Frankly, the story didn't engage me BUT the odd combination of gorgeous watercolor backgrounds and child-like figure drawings for the characters was oddly compelling. It's gritty, through and through, so be forewarned on that.
Labels: adventure, alan moore, book review, chinese, danica novgorodoff, delilah dirk and the turkish lieutenant, female protagonist, graphic novel, mythology, promethea, the undertaking of lily chen, tony cliff