Synopsis according to Goodreads:
"
Sophie Mercer thought she was a witch. That was the whole reason she was sent to Hex Hall, a reform school for delinquent Prodigium (a.k.a. witches, shape-shifters, and faeries). But then she discovered the family secret, and the fact that her hot crush, Archer Cross, is an agent for The Eye, a group bent on wiping Prodigium off the face of the earth.

Turns out, Sophie's a demon, one of only two in the world-the other being her father. What's worse, she has powers that threaten the lives of everyone she loves. Which is precisely why Sophie decides she must go to London for the Removal, a dangerous procedure that will either destroy her powers for good-or kill her.

But once Sophie arrives, she makes a shocking discovery. Her new housemates? They're demons too. Meaning, someone is raising demons in secret, with creepy plans to use their powers, and probably not for good. Meanwhile, The Eye is set on hunting Sophie down, and they're using Archer to do it. But it's not like she has feelings for him anymore. Does she?
"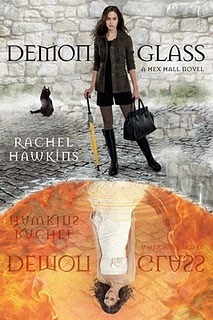 Demonglass is the second book in the Hex Hall series, and surprisingly not a sophomoric attempt to hold tension until the finale (like many other YA trilogies). It doesn't suffer from pacing flops, or lack of motivating conflict. If anything, it takes all the angst issues of book 1 and heaps more kindling on that fire.
It's a fun read, like the first was. Sophie is snarky but not cruel, which is a fine line to walk, and her greatest strength is definitely her loyalty and commitment to the truth (she's a Gryffindor if ever there was one!). She's smart, and while there's less of the side characters in this story, the tension still holds. I wish Nick and Daisy had been a bit more developed (maybe in the next book?) and that Cal got more time in the sun (Team Nice Guy!), and that the villains weren't so recklessly stupid (but then, fear of the enemy makes you do stupid things, so it's realistic). But overall, I enjoyed this, and read it in a week, and immediately went to the library for the third book.
I recommend it for fans of book 1. And I recommend the trilogy for fans of YA (especially contemporary supernatural), magic (including shapeshifters, witches, faeries, demons, etc.), female protagonists who are snarky and smart, sizzling PG romance and action. Oh, and manor houses.
Labels: action, book review, demonglass, demons, fae, female protagonist, hex hall, magic, novels in november, rachel hawkins, romance, supernatural, vampires, witchcraft, YA