Synopsis according to Goodreads:
"
By way of a staggering deception, Karou has taken control of the chimaera rebellion and is intent on steering its course away from dead-end vengeance. The future rests on her, if there can even be a future for the chimaera in war-ravaged Eretz.

Common enemy, common cause. When Jael's brutal seraph army trespasses into the human world, the unthinkable becomes essential, and Karou and Akiva must ally their enemy armies against the threat. It is a twisted version of their long-ago dream, and they begin to hope that it might forge a way forward for their people.

And, perhaps, for themselves. Toward a new way of living, and maybe even love. But there are bigger threats than Jael in the offing. A vicious queen is hunting Akiva, and, in the skies of Eretz ... something is happening. Massive stains are spreading like bruises from horizon to horizon; the great winged stormhunters are gathering as if summoned, ceaselessly circling, and a deep sense of wrong pervades the world.

What power can bruise the sky? From the streets of Rome to the caves of the Kirin and beyond, humans, chimaera and seraphim will fight, strive, love, and die in an epic theater that transcends good and evil, right and wrong, friend and enemy.

At the very barriers of space and time, what do gods and monsters dream of? And does anything else matter?
"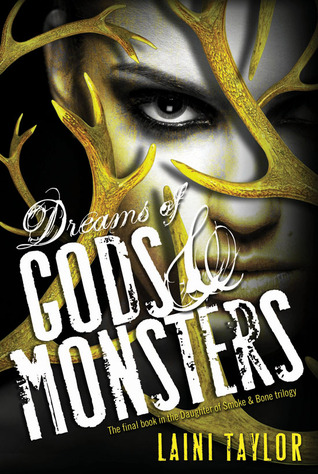 Dreams of Gods & Monsters is the final book in Laini Taylor's gorgeous Daughter of Smoke & Bone trilogy and I have absolutely no excuse for taking two-and-a-half years to finish this series
. Except that perhaps I knew somewhere in my cold, black heart that I would be disappointed by this ending to the series. Which isn't, in fact, an ending to the story.
So there's the characters that you love, an the angstbucket that is the entire story to date. And then Laini Taylor adds a few more characters you're gonna love, and subplot AND a side plot because why not. I felt pulled in so many directions, I actually cared less about Karou and Akiva than almost everyone else in this book.
And there are some heart-tweaking sacrifices. And then some undoing of those sacrifices, because apparently The Doctor was in Eretz that day.

And while I appreciate happy endings, one of the things I adore Laini Taylor for is yanking my heart through my tear ducts. So when she plays take-backsies, I kind of wonder what happened to one of my favorite authors. And then when she introduces pretty much the plot for another trilogy in the final chapters of this trilogy-ending book, I felt like there was some marketing and sales pandering.
And THEN, worst of all guys, she did the Lord of the Rings never-ending ending.
(also known as the Battlestar Galactica never-ending ending).
So I basically finished this novel out of sheer spite, but it was difficult and awkward and I didn't understand why it was such a slog compared to the first two.
I recommend it to anyone who needs to know how the series ends, and doesn't have the same plot tics that I do. It's not a BAD novel, I just had higher expectations than I perhaps should have.
Labels: action, audiobook, book review, contemporary, dreams of gods and monsters, fantasy, female protagonist, laini taylor, mythology, romance, trilogy