Synopsis according to Goodreads:
"
As dusk approaches a small Dublin suburb in the summer of 1984, mothers begin to call their children home. But on this warm evening, three children do not return from the dark and silent woods. When the police arrive, they find only one of the children. He is gripping a tree trunk in terror, wearing blood-filled sneakers and unable to recall a single detail of the previous hours.

Twenty years later, the found boy, Rob Ryan, is a detective on the Dublin Murder Squad and keeps his past a secret. But when a 12-year-old girl is found murdered in the same woods, he and Detective Cassie Maddox (his partner and closest friend) find themselves investigating a case chillingly similar to the previous unsolved mystery. Now, with only snippets of long-buried memories to guide him, Ryan has the chance to uncover both the mystery of the case before him and that of his own shadowy past.
"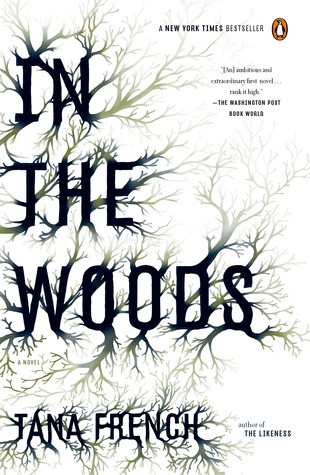 In the Woods is the kind of mystery novel I can see several people getting frustrated with, but I loved it. The protagonist, Rob, is a complex, all-too-flawed man who came across so three-dimensional that I felt swept up in every emotional and exhaustive event he goes through
. Actually, all the characters in this novel are three-dimensional, and really drive the story.
It's essentially two stories in one: the mystery of two kids' disappearance, which dips into some magical realism points and has a mythology and a thriller aspect; the contemporary murder of a girl, and subsequent gritty crime novel investigation.
The novel is incredibly suspenseful. I had a difficult time putting it down (and when Rob spends the night in the woods? I got to that part right before going to sleep....or trying to, anyway). It's also believable, which makes the whodunit part horrific. I was bent along Cassie's thinking, for similar reasons to why she thinks that way, in terms of the suspects. But I was still surprised in some ways. I don't want to give anything away, but something about the tenor of writing has turned me into an insta-Tana French fan. I can't wait to read the next book in the series, though I worry about Rob's fragility.
I definitely recommend this to fans of murder mystery novels, crime/detective novels, general mystery novels, magical realism, gritty contemporaries, friendships and character-driven stories with strong page-turner plots. Bonus if you don't mind NOT getting all the answers!
Labels: book love, book review, contemporary, crime, detective, friendship, in the woods, ireland, magical realism, murder, mystery, tana french