Synopsis according to Goodreads:
"
Just as Sophie Mercer has come to accept her extraordinary magical powers as a demon, the Prodigium Council strips them away. Now Sophie is defenseless, alone, and at the mercy of her sworn enemies—the Brannicks, a family of warrior women who hunt down the Prodigium. Or at least that's what Sophie thinks, until she makes a surprising discovery. The Brannicks know an epic war is coming, and they believe Sophie is the only one powerful enough to stop the world from ending. But without her magic, Sophie isn't as confident.
Sophie's bound for one hell of a ride—can she get her powers back before it's too late?
"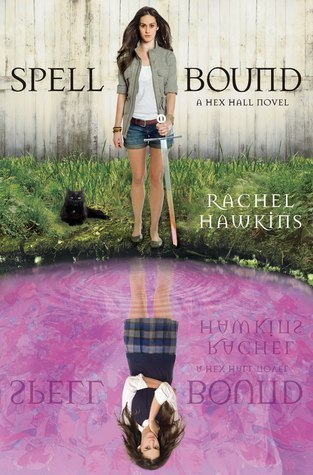 Spell Bound is the final book in the Hex Hall series, and just as fluffy, fast-paced fun as the previous two. It could have been drawn out much more, considering how much happens in this book, actually- a few things did feel rushed. Still, it was enjoyable and tied up the loose ends of everything.
Sophie continues to entertain, although still be realistically youthful in many ways. The friendship, the love interest, the BtVS-style world saving...it's all there. The only part of this book that felt like a cop-out, or at the very least WAY too convenient, was the Cal storyline. Other than that...yeah, this worked for me.
I recommend it for fans of the series, obviously. And I recommend the trilogy for fans of YA (especially contemporary supernatural), magic (including shapeshifters, witches, faeries, demons, etc.), female protagonists who are snarky and smart, sizzling PG romance and action. These are pretty 'popcorn' as books go, so you can absolutely get and blitz through all three books in a week.
Labels: book review, demons, friendship, hex hall, magic, novels in november, power, rachel hawkins, romance, spell bound, trilogy