Synopsis according to Goodreads:
"
Cas Lowood has inherited an unusual vocation: He kills the dead. So did his father before him, until he was gruesomely murdered by a ghost he sought to kill. Now, armed with his father's mysterious and deadly athame, Cas travels the country with his kitchen-witch mother and their spirit-sniffing cat. They follow legends and local lore, destroy the murderous dead, and keep pesky things like the future and friends at bay.
Searching for a ghost the locals call Anna Dressed in Blood, Cas expects the usual: track, hunt, kill. What he finds instead is a girl entangled in curses and rage, a ghost like he's never faced before. She still wears the dress she wore on the day of her brutal murder in 1958: once white, now stained red and dripping with blood. Since her death, Anna has killed any and every person who has dared to step into the deserted Victorian she used to call home. Yet she spares Cas's life.
"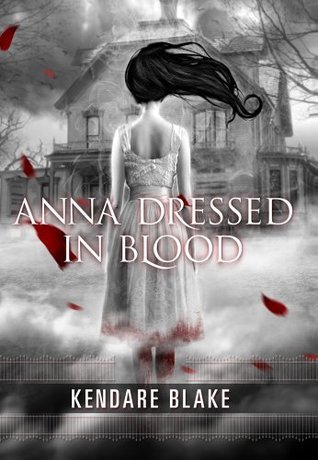 Anna Dressed in Blood is my second Kendare Blake novel. I have to first use the disclaimer here that I listened to the audiobook, and the narrator was one of the WORST I've ever encountered. That definitely has an impact on my enjoyment of the novel, even though I'm trying to be fair.
OK, so sucky narrator aside, this novel develops almost exactly as you'd expect from the synopsis. That disappointed me, honestly. The greater mystery behind the death of Cas' father was more intriguing and not as projected, so that engaged me more as a reader.
I do appreciate the very vivid, visceral descriptions of things. A ghost story like this should have some gore, and it felt like the author didn't shy away from that. But overall, it didn't really capture my attention or make me feel invested.
I recall when this book came out there was a lot of buzz around it. Maybe it was somewhat ground-breaking for the genre at the time? Maybe I'm inured from all this watching of Supernatural? Maybe the bad narrator really tainted the experience more than I can compensate for. But my overall impression is: meh.
Labels: anna dressed in blood, audiobook, book review, contemporary, kendare blake, paranormal, supernatural, YA