Synopsis according to Goodreads:
"
Just when Azalea should feel that everything is before her—beautiful gowns, dashing suitors, balls filled with dancing—it's taken away. All of it. And Azalea is trapped. The Keeper understands. He's trapped, too, held for centuries within the walls of the palace. So he extends an invitation.
Every night, Azalea and her eleven sisters may step through the enchanted passage in their room to dance in his silver forest, but there is a cost. The Keeper likes to
keep
things. Azalea may not realize how tangled she is in his web until it is too late.
"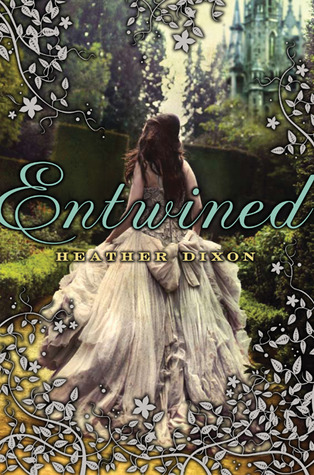 Entwined is a YA fantasy retelling of The 12 Dancing Princesses. It's basically set in a magical kingdom with shades of Victoriana, and centers around Azalea (the eldest of the 12).
There's not much to say about this one- it didn't surprise me, but neither was it poorly written. It's on the youthful side of YA, that is to say it's not very introspective or deep and the characters act as expected. My favorite part of the story was actually Bramble, the second-eldest sister.
I recommend it for fans of straightforward fairytale retellings, YA and middle grade books, and general youthful fantasy settings.
Labels: 12 dancing princesses, audiobook, book review, entwined, fairytale retelling, fantasy, female protagonist, heather dixon, novels in november, YA